The ICW US Digital Map Atlas covers the 50 states, District of Columbia, and Puerto Rico. The maps are organized into units of geography: by county in 48 states, parishes in Louisiana, in Alaska the division is boroughs and census areas and county equivalents in other areas.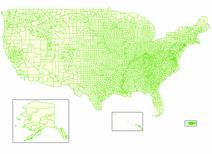 There are 17 to 40 plus layers of information for every unit of geography: Block, Block Groups, Tracts/BNA, MCD/CCD, Place, County, Reservation, and Alaskan Native Lands, Elementary/Middle/Secondary/Unified School Districts, CMSA/PMSA/MSA, Urbanized Area, water polygons, Congressional Districts, voter precincts, landmark polygons and points, key geographic locations, roads, major roads, airports and railroad tracks, linear water features, other physical features, ZCTA's and Zip+4 centroids.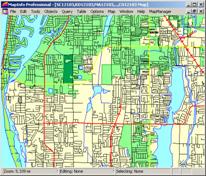 Customer specific data sets can be derived from this national atlas. For example one may be interested in a ZIP+4 coverage for the entire US, a region, or a State. Perhaps a Tract or Block Group table for the same geographic area is required. ICW can assist the client in the creation of these types of custom data sets or create custom data sets for the customer.
Direct linkage to demographic data between the 2000 decennial census data products or third party demographic providers can be accomplished quite easily. Blocks, Block Groups, Tracts, Place, and other Census geography carry the necessary FIPS and area codes with which to join demographic records.
Map Manager is distributed with the ICW US Digital Map Atlas . Map Manager is an application designed for the convenience of installing data from the distribution CD's, opening various combinations of tables from several counties simultaneously, and combining multiple tables into a larger regional table.